Mouth-watering Canapés
Whoever said 'the best things come in small packages' must have been talking about canapés. These one-bite wonder shave risen through the culinary ranks and now have the power to make or break any party. With canapés catering breaking new ground, today's canapés have become an art form; each little bite is an opportunity for inventive chefs to play with the taste buds and senses.
So what's the secret to these moreish morsels? It all comes down to presentation and bold flavour. After all, one mouthful is all you have to make an impact so you need topack the canapé with really intense and well-balanced flavours. Another thing to aim for is simplicity. We've seen all sorts of canapé experiments in the past few decades – some of which were incredibly complicated and over-worked. Today the canapés that have people reaching for more are those that deliver fresh and clean flavours in one bite.
Presentation is also crucial. People eat with their eyes first, so everything from the colour of the canapés to the way it is served becomes part of the canapé experience.
While it can be tempting to get adventurous with canapés, we must remember that a canapé by definition has to be one mouthful. If it isn't easy to eat with your fingers, don't serve it as a canapé.
With so much riding on one bite, it's worth looking to a canapés catering Melbourne company such as Your Private Chef for expert help. They can design a menu with the perfect combination of hot and cold canapés, seasonal canapés and dessert canapés to really get people talking (and eating!).
Easy Canapé Recipe by Your Private Chef Melbourne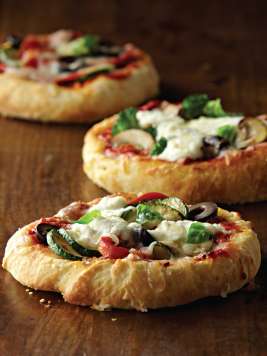 For an easy canapé recipe that requires very little work, these Greek mini pizzas are simply packed with flavour and look gorgeous.
What you need:
Ready-made pizza bases
Tomato paste
Pitted olives
Chargrilled capsicum slices
Fetta (crumbled – or you can do this!)
Basil leaves
Cut 4.5cm rounds from the ready-made pizza bases and place on an oven tray.
Top with tomato paste, then layer with halved olives, chargrilled capsicum slices and crumbled fetta.
Bake in the oven until hot.
Top with basil leaves to serve.