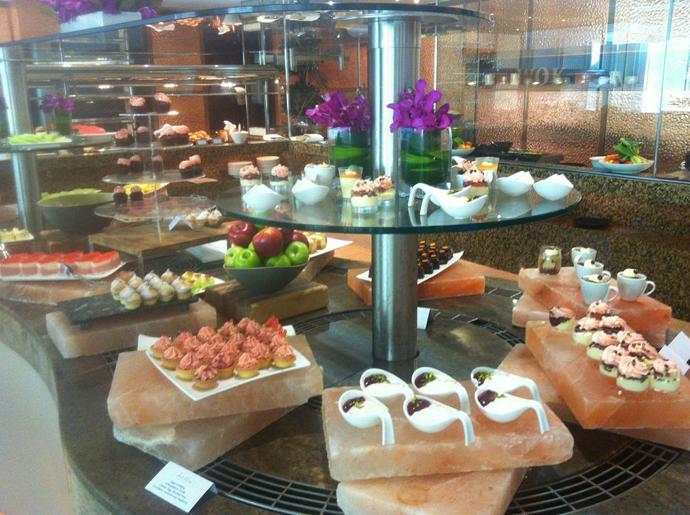 This month we indulged in a family mid-week break to a place whispered to be Australia's food capital. Yep, you've guessed it – Melbourne. Okay, we only live 4km away from the city, but oh how we ate!
What we ate: Just about everything! While grandma and David dutifully made our way through the seafood, Ana enjoyed the amazing seasonal veggies and all the vegetable curries. We all loved our tailor-made freshly wokked stirfries and, while we're not normally sweet-toothed, we loved seeing the amazing presentation of the desserts.
What we drank: We ordered the Grappa but they were out, so we settled on some single malt scotch instead. Yes it was Wednesday lunchtime, what's your point?
Best bits: The very impressive show of naan bread-making and, of course, tucking into this soft chewy Indian bread afterwards.
Worse bits: Getting a little too adventurous with the pickled chilli on the Indian station. It can only be described as old-sock-meets-chilli-paste.
Good for: Very hungry people, business lunch, catch up with friends, special occasions.
Don't leave without: Staying for High Tea at the Langham – this family friendly affair has an impressive array of desserts and house teas. Lots of little tots in princess outfits and superman apprentices were seen in the lobby that day!
Venue details:
1 Southgate Avenue, Southbank, Melbourne, Victoria
https://www.langhamhotels.com/en/the-langham/melbourne/dining/