https://www.visitmelbourne.com/food-and-wine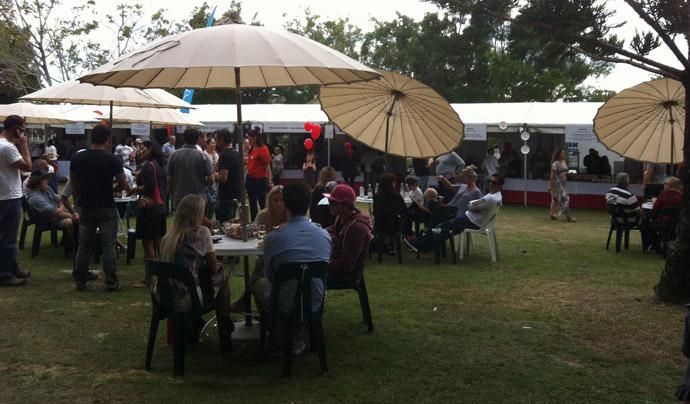 Arriving back in Melbourne recently, it occurred to us the airport sign should be changed. It should read: "Welcome to Melbourne. Where the hunt for the best burger can lead to an unmarked door in a hidden laneway. Where people wait on tenterhooks for the announcement of where the food truck will head that night, and then happily dine in a parking lot. Where people will wait 45 minutes for a steamed dumping."
Let's face it,Melburnians are besotted with food and wine. But for good reason; after all, creating lip-smacking food is something we're incredibly good at it. Even top chef Marco Pierre White said, "Melbourne without question is the gastronomic capital of Australia".
It's no surprise, then, that in our spare time we like to celebrate our love of food with gastronomicalevents. There are now more Melbourne food festivals and events than ever before– and the list is growing. Like a degustation, it no longer satisfies to just explore, say, the Asian Food Festival 2013 and the Melbourne Food and Wine Festival – you need to sample a little Spanish, maybe a homemade festival and something regional to complete the meal.
So Many Food Festivals, Which Ones to Go to?
Here's our list of Melbourne food festivals your tastebuds cannot afford to miss:
Melbourne Food and Wine Festival – We couldn't begin anywhere else. The Melbourne Food and Wine Festival is quite possibly every foodie's dream. Held every march, the festival is a degustation of the region's best culinary delights. And it gets served up in more creative and fun ways every year. The Food Festival 2013 kicked off with the World's Longest Lunch, where 1,230 people were served a three course lunch in a park simultaneously. From there, it was a whirlwind of foodie bliss, from fishing for snapper in Port Phillip Bay to sipping freshly brewed coffee at the Urban Coffee Farm.
Queen Victoria Night Market: From mid November to the end of summer, even Hump Day becomes a day to celebrate at the Queen Victoria Night Market. The fruit and veg area is transformed into a bustling night market, filled with Indian curries, African food, paellas, Thai cuisine, corn on the cob…all washed down with sangria or Australian wines while enjoying music and dancing.
Asian Food Festival 2012: Hot, spicy, sweet and sour all merge in one big multicultural celebration of Chinese, Japanese, Korean, Malaysian, Thai and Vietnamese cuisines from 1 September – 15 October 2013.
Johnston Street Fiesta: Though not strictly one of theMelbourne food festivals, this event is not to be missed. Found on the Brunswick Street end of Johnston Street, this Spanish fiestaentices people with the music, but they stay for the food. For two days in November, the street is packed with sizzling pans of paella, jugs of sangria, hot churros and olives.Olé!
Trailer Park: Another almost festival. Every weekend from 24 August to 29 September, you can put away your sat nav knowing with 100% satisfaction that your favourite food truck will be at Village Melbourne on St Kilda Road. Now will it be gumbo, tacos, curry…?
Melbourne Salami Festa: This gem of a food festival appreciates the ancient tradition of salami making, along with plenty of home made Italian cooking and live music, of course. Only in Melbourne…
And that doesn't even begin to cover all the food festivals just a stone's throw from the city in the Yarra Valley, Mornington and beyond.
So tell us…what's your favourite Melbourne Food Festival? Which has been your favourite Food Festival 2013 so far?