Melbourne Wedding Catering
Celebrate your union with culinary perfection by choosing Your Private Chef for Melbourne Wedding Catering. Elevate your special day with our exquisite catering services, offering a harmonious blend of gourmet delights and impeccable service to create unforgettable moments.
4.8

Stars – Based on

476

User Reviews
Your Best Choice for Melbourne Wedding Catering
Our focus on quality, presentation, and flavor ensures that our wedding catering service contributes to the overall enchantment of your celebration. Whether you envision a sophisticated sit-down dinner or a stylish cocktail reception, our experienced team is dedicated to bringing your culinary dreams to life.
Your Path toPerfect Melbourne Wedding Catering
Consultation and Planning:
If needed, we can discuss your vision for your Melbourne Wedding Catering event, understand your preferences, and offer expert advice on menu selection and event planning. This step ensures that your Melbourne Wedding Catering reflects your style and meets all your expectations.
Detail Finalization
We finalize all crucial details as your Wedding Catering approaches, including guest count, venue specifics, and special requests, to ensure seamless catering execution.
Food Preparation and Quality Assurance
Our skilled chefs prepare your chosen dishes with a focus on quality and freshness, upholding our high culinary standards.
Delivery and Setup
On the day of your Melbourne Wedding Catering, we deliver and set up at your location. For large events requiring table setup with chafing dishes, we provide this service along with attendants.
Self-Service Management
Our catering typically enables self-service, allowing guests to enjoy the meal at their convenience. For larger events, our attendants manage the buffet area, ensuring a smooth dining experience.
Cleanup
For large events with our attendants, we manage the post-event cleanup of the food tables, leaving the area tidy and organized.
Need Help Planning Your Event?
Talk to Your Private Chef
Our Melbourne Wedding Catering Customers Say
In our 400+ reviews, our clients consistently praise our dedication to delivering exceptional service and delectable cuisine for Melbourne Wedding Catering. From menu customisation to our professional and attentive staff, every aspect of our service contributes to making your Melbourne Wedding Catering uniquely special.
Why the Best Melbourne Wedding Catering?
Our Melbourne Wedding Catering service make it easy for you to impress your guests. From the initial planning stages to the final execution, our team is committed to providing guidance, advice, and solutions that make your event planning process as stress-free as possible. Our clients consistently praise our willingness to listen, adapt, and deliver beyond expectations, solidifying our reputation as not just a catering service, but a valuable partner in creating your perfect Melbourne Wedding Catering experience.
4.8

Stars – Based on

476

User Reviews
Great Melbourne Wedding Catering Menu
Our Melbourne Wedding Catering brings a slice of the city's renowned culinary excellence to your events.
Melbourne, a city celebrated for its diverse and vibrant food scene, provides the perfect inspiration for our Melbourne Wedding Catering service.
We blend local flavors with innovative approaches to offer a unique dining experience that reflects the city's gastronomic flair.
Whether it's a bustling corporate event, a cozy private gathering, or an elegant celebration, our Melbourne Wedding Catering service is designed to impress.
Dive deeper into what makes Melbourne special by exploring the city's official government website and its Wikipedia page. To further enrich your Melbourne experience, check out Visit Melbourne and TimeOut Melbourne for the latest in local tourism and events.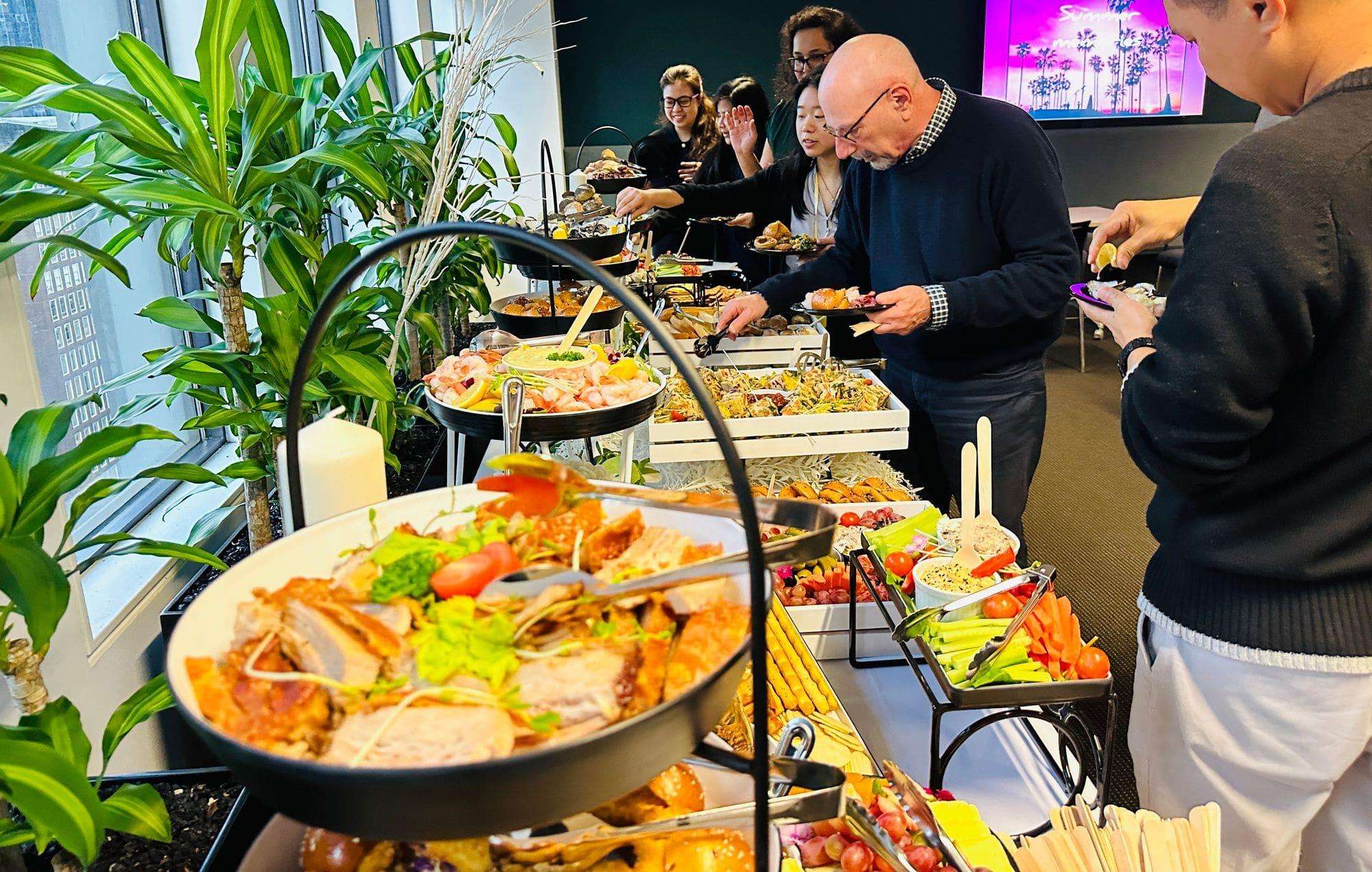 Monday
8:00 AM to 5:00 PM
Tuesday
8:00 AM to 5:00 PM
Wednesday
8:00 AM to 5:00 PM
Thursday
8:00 AM to 5:00 PM
Friday
8:00 AM to 5:00 PM
Saturday
8:00 AM to 5:00 PM
Our dedicated team is available to talk from 8am to 5pm, Monday to Saturday. But but we can deliver by arrangement outside those hours.